Running a restaurant is hard work. Acquiring customers, juggling bookings, managing wait staff, designing the menus, and delivering excellent food… It's certainly not easy!
Wouldn't it be great if things could be that little bit easier? We believe a virtual landline can be the tool to do just that. In this post, we'll go over our top reasons why a robust virtual landline solution can be exactly what's needed for a restaurant business.
What is a Virtual Landline?
Before we look at how a virtual landline can help, it's worth us running through what a virtual landline is. This will just be a brief review, for an in-depth look, take a look at our page on Virtual Landlines.
In short, a virtual landline is simply an internet enabled phone line. You can pick your number(s) and will receive a regular landline number. However, when a customer calls your restaurant, they will be directed to either your internet enabled VoIP phone, or your mobile.
This unique setup gives virtual landlines a number of distinct advantages, especially for restaurant owners.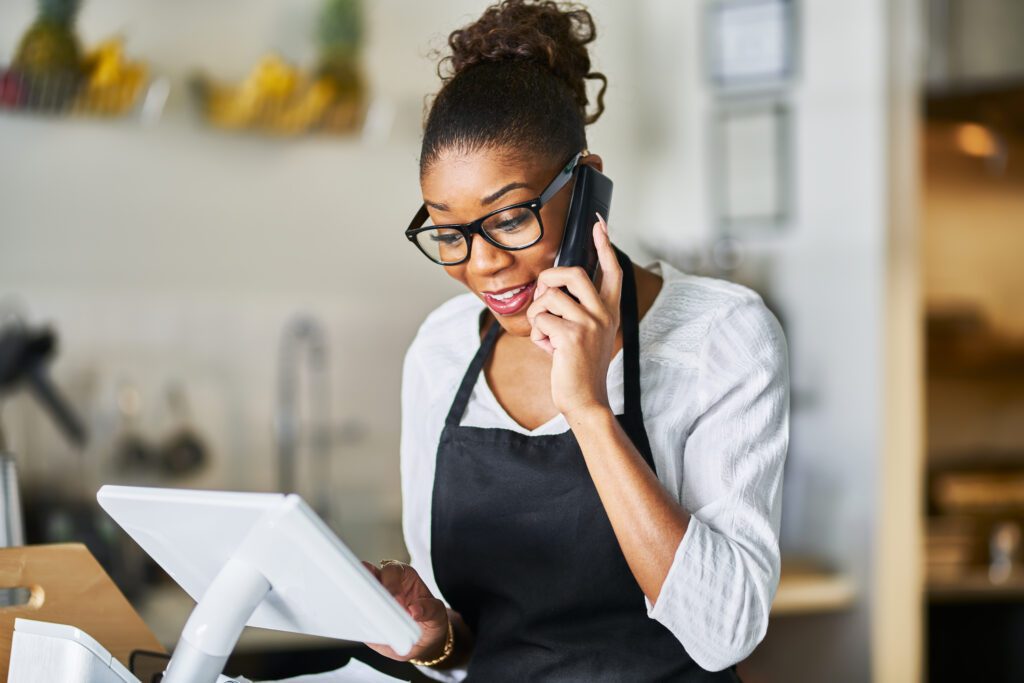 Multiple Locations
If you're fortunate enough to have restaurants in multiple locations, then a virtual landline is a necessity.
A virtual landline will enable you to have separate numbers for each restaurant location, even if they are in separate area codes.
You'll also be able to take advantage of a simple setup when opening new locations. You simply order more VoIP phones or set calls to divert to a mobile of your choosing. It's that simple and we can help walk you through the entire process.
Finally, if you have more than one location, it can be a pain when a customer from the wrong location calls your number. Of course, your new local area codes should make this a thing of the past. However, with a virtual landline, you can also easily transfer and divert calls to a different location or number.
Separate Line for Delivery Platforms
This seems like a small thing. However, we've known several customers to set up a separate phone line for handling all incoming take out / delivery platform calls. This frees up their main line for customer bookings and enquiries. Perhaps you get frequently asked questions related to take out or bookings and it would be more appropriate to have a different member of staff answer each call type?
Auto-Attendant
Another way you can facilitate this "separate line for separate call types" approach is by using the auto-attendant that you get with all our virtual landline packages.
This can be useful for separating out bookings, enquiries or takeout orders, for example, and routing them to different team members.
Call Recordings
Cloud based call recordings that you can access from anywhere come as standard with our virtual landlines. This is especially useful to save you time and maintain a professional image for your restaurant.
Didn't quite catch a particular dietary requirement or group size? No need to hassle the customer by calling back, you can simply listen back to the call and save everyone's time.
Out of Hours Bookings.
Because a virtual landline lets you go mobile, you can now take bookings outside of restaurant opening hours, or perhaps you're away for a while but want to ensure no bookings slip through the cracks.
This is all enabled by a virtual landline… if you want it!
Professional Image
The last main benefit to a virtual landline is that by having a landline number you get the prestige and professional image associated with having a dedicated landline number, without any of the drawbacks.
It's not uncommon for restaurants to display a mobile number for enquiries, and while having a landline isn't indicative of the quality of your food or service, it certainly is likely to gain you more calls in the first place.
What now?
Hopefully, now you can see the many benefits of a virtual landline for your restaurant business.
You have a busy job as it is. Why not make things that little bit simpler with a virtual landline?
If you'd like to have a chat with one of our team to discuss if a virtual landline is the right solution for your restaurant, please reach out to us at info@prestigetelecomgroup.co.uk or call 01329 554 375.