In our last post, we looked at some of the benefits and considerations you may have to make before transitioning to a remote work environment. In this post, we'll have a look at how to mitigate some of those negative points while amplifying the positives. In other words, we'll discuss how to create the perfect work from home environment.
Decide how to operate / set expectations
First, it's important to decide how you're going to operate. This may be something you do amongst your senior management team. However, it may also be something you want to include all team members in. If people get a say in how they work, they'll feel more empowered and are more likely to want to work harder to prove that this method is the best way forward.
You'll have a lot to discuss here. Do you want to have set hours but everyone can work from home whenever they wish? Do you want to have no fixed hours and only focus on results, perhaps with KPIs or set meeting times that people need to attend? Do you perhaps want to encourage people to work from home but reserve certain days of the week where everyone should come into the office? Perhaps people can work from home only once they've hit and continue to achieve targets?
As we said, there's a lot to ponder, and we understand that remote working arrangements can test the trust of employers. However, get that balance right and you'll find a much more productive workforce on your hands.
If this is new to you, it may well be new to a lot of your team, too. Set clear expectations for your current employees and any new hires to avoid confusion down the line. Follow up by sending out the new arrangements in writing ideally.
Understand that once you give freedoms, it's difficult to take them back. If you're concerned that certain employees require an office environment to be most productive, discuss this with them and perhaps make remote working conditional upon them maintaining certain standards.
Ultimately though, the world is going remote so you may have to provide these freedoms regardless, or risk losing your top talent to more flexible competitors.
Inclusivity
In our previous post, we spoke about the effects of isolation on the mental wellbeing of your employees. To combat this, try to build a hyper-inclusive work environment. Regular video or phone calls can help people stay connected, as well as frequent social events, both in person and virtual.
Little gestures can go a long way. For instance, during the pandemic, we sent our team care packages and easter eggs to their doorsteps. It's these little things that can really help when someone is experiencing isolation. Try to keep your office doors open for anyone that needs the social interaction, and have conversations with each of your employees about what they need from you.
You may want to consider investing in corporate wellness platforms that may help your team too.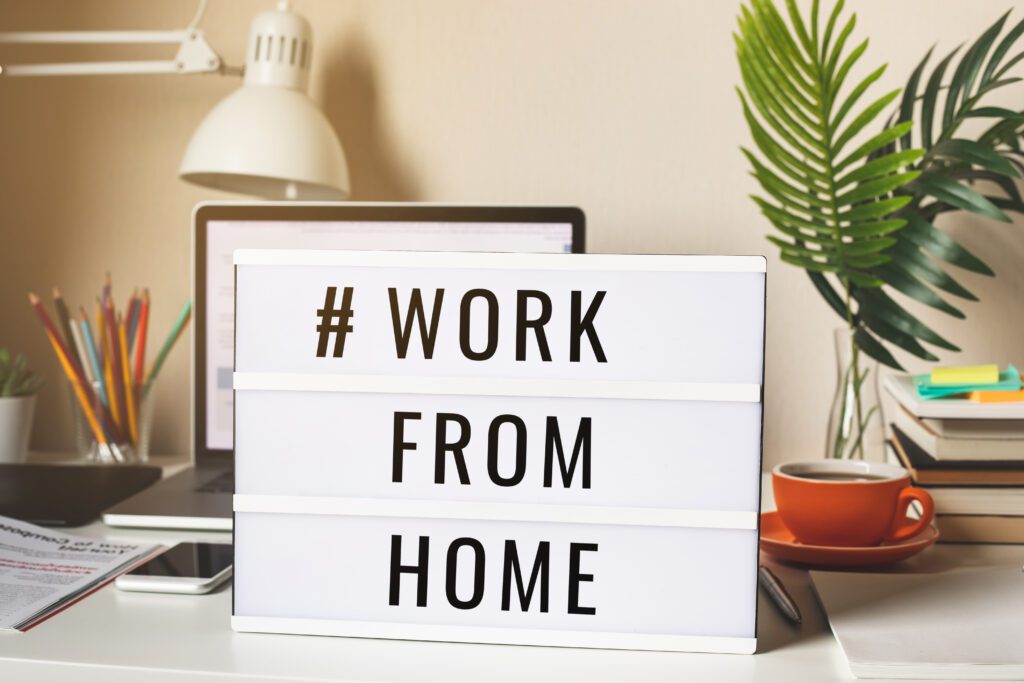 Measure results and iterate
This will likely be a big shift for your organisation. Ensure you take a baseline before moving to remote working and measure your organisational output afterwards, both individually and as a collective. Keep measuring month by month and think of ways to iterate your process to get the most out of your remote team.
Tech, phone systems etc
Finally, the last thing you'll need to look at is your technology and phone systems.
You'll need to settle on a video conferencing app for virtual meetings. How will these be scheduled? Perhaps a tool like Calendly could help if everyone keeps their calendar up to date?
Ensuring your team has stable internet connections will be a must if you don't want to lose productivity to WiFi outages. You'll need to make sure each team member is contactable too, and you may want to consider business mobiles for this. Finally, a good VoIP phone system will help merge the office and home working environments seamlessly by allowing customers to select the correct department via a menu, and these systems will make diverting calls a lot easier.
If you're interested in getting your systems in place for remote working, get in touch with our team today at info@prestigetelecomgroup.co.uk or call us on 03303 200 222