In 2018 BT announced an imminent switch-off of all traditional landlines in Old Blighty.
With the prevalent use of mobile phones, our personal lives won't really be affected. However, when it comes to the world of business, landline-based networks are still very much in use.
The good news is that there really is nothing to worry about regarding this change. Converting to a VoIP solution is now seamless and near instantaneous. Not to mention there's a shed load of advantages that frankly make a traditional landline setup look about as modern as a rotary dial telephone.
When converting over to a VoIP system you can retain your original number or even rebrand, giving yourself a business, local or city number depending on how you want to project your enterprise's image. A VoIP system doesn't require a visit from an engineer, wires being ripped out and a lot of messy re-plastering. Nope, all you need is an Ethernet connection port and you're good to go.
So now you know that VoIP systems are not only simple to install, but that they are an inevitable part of your business's future. The VoIP revolution is in full swing, and thankfully it's full of advantages that will make your day-to-day operations run that little bit smoother.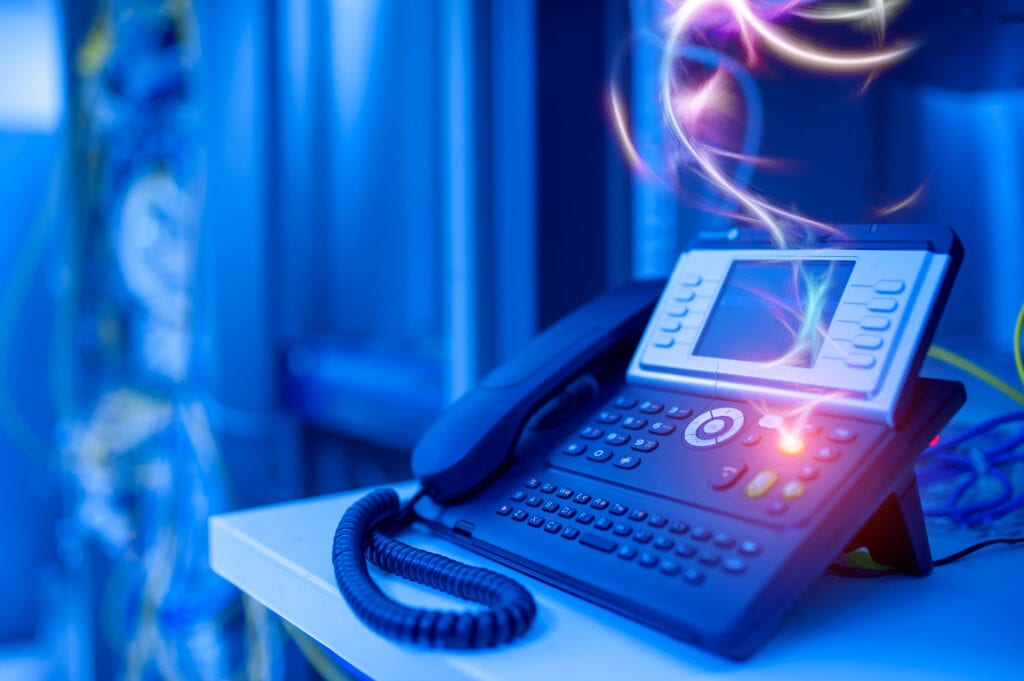 VoIP systems have great security, using password powered methods of entry you can permit members of staff to have various levels of access. By using unique login details, employees can monitor features such as voicemail inboxes no matter their location. As long as they can get online, they can access the cloud.
You'll also have many options when it comes to your cloud-based voicemail inboxes. With huge storage, you won't have to worry about deleting messages. You can also have an infinite number of separate inboxes for departments or individual members of staff.
Since the pandemic, many businesses have splintered. Offices lay dormant while many people are working from home. Many businesses have realised that work has carried on just the same despite the change or in some cases, productivity has even increased. This has led to many employers extending work from home indefinitely; not having to rent office space is another expenditure out of the window.
What looks more professional to a potential client though when making a call? A buzzing office full of professionals or a man sat in his boxers at three in the afternoon in a shed? As long as the work gets done, we are now free to work as we want in our own homes. But a professional image is still important to the success of any business.
This is where a VoIP system can protect the image of your business. Introducing call forwarding. Using VoIP, you can use landline numbers to forward calls to specific people within the organisation. As long as they have a VoIP phone or just a mobile, they will be able to receive calls. This is also great when your employees find themselves away on business, they will always be reachable by a landline number. Not only does this type of number look instantly more professional, it also means there is a much lower chance of clients not being able to get hold of that important person that they need to speak to.
Some businesses like to have different landlines for various parts of the company. Whereas some like to keep it simple with just one recognisable number. How can clients get hold of specific people or departments with just one number? Using a VoIP system, you can set up a bespoke keypad operated number-based menu system which can be edited on the fly.
A menu system means that you can manage high levels of incoming calls quickly, making sure that clients speak to the right person every time.
At the end of the day, the age-old business expression is still true; time is money. And that's exactly what a VoIP system will give you, much more time. With a super-fast setup and intuitive systems that streamline communications, you can get back to the important stuff like running your business.
If you'd like to learn more, get in touch with one of our friendly team today or give us a call on 01329 595080.
Read the rest of the VoIP series: