If you've been following our blog posts, you will have noticed that the flavour of the month (or in fact the year) is VoIP solutions. There are some great options out there and our competitors really do try their best, but we are confident that we are fast becoming the UK's most important and relevant telecommunications company, for 3 main reasons. 
1.    Our feature set and product range
2.    Our pricing 
3.    Our customer service 
We'd recommend a VoIP over a traditional landline any day of the week. But, we are confident that ours has a lot more to offer than others on the market. In this post we'd like to share with you what makes the Prestige package so appealing.
Market research is very important to us and our crack team of researchers know all the ins and outs of what the telecommunications market can offer to businesses. We didn't just want to match prices though, we wanted to be able to offer better deals for better products. It's what our clients want from us, and we feel good being able to provide quality that doesn't compromise on price. So, that's the first thing you get with our VoIP solution, a consistently low price.
Our VoIP systems wouldn't work if it wasn't for the cloud. Like a lot of online solutions nowadays, VoIP relies on reliable servers. Our cloud hosts a bespoke Management Portal that is set up with your company in mind. You can create login credentials for all members of staff offering different levels of security depending on their position in the company. Passwords can be managed regularly to ensure that your security is dynamic, keeping hackers at bay – not something you come across every day.
After securely logging in on their VoIP device or smartphone, your employees can then play about with a range of options. They have full control of voicemail inboxes which have unlimited storage and personal greetings can be modified ad hoc for any change of circumstance. 
How can any business move forward if they can't see their performance? We're all about the stats. The Management Portal allows users with the sufficient level of security to see which of your numbers are receiving the most calls. We also give you the option of recording your calls for legal and training purposes. Our huge servers offer unlimited backups for up to 90 days. A great feature to help deal with complaining clients and new starters who need a little extra training.
If you're concerned about which numbers are taking the most calls, you're probably at a point where managing incoming calls is becoming difficult. The good news is that this means your business is booming and our VoIP systems have a simple solution for this first world problem. Introducing Auto Attendant, in layman's terms this is a keypad-based menu system which will allow your customers to navigate to the right department or person by the touch of a button. It means less waiting for your customers and less time wasted as people are always put through to the person they need to speak to.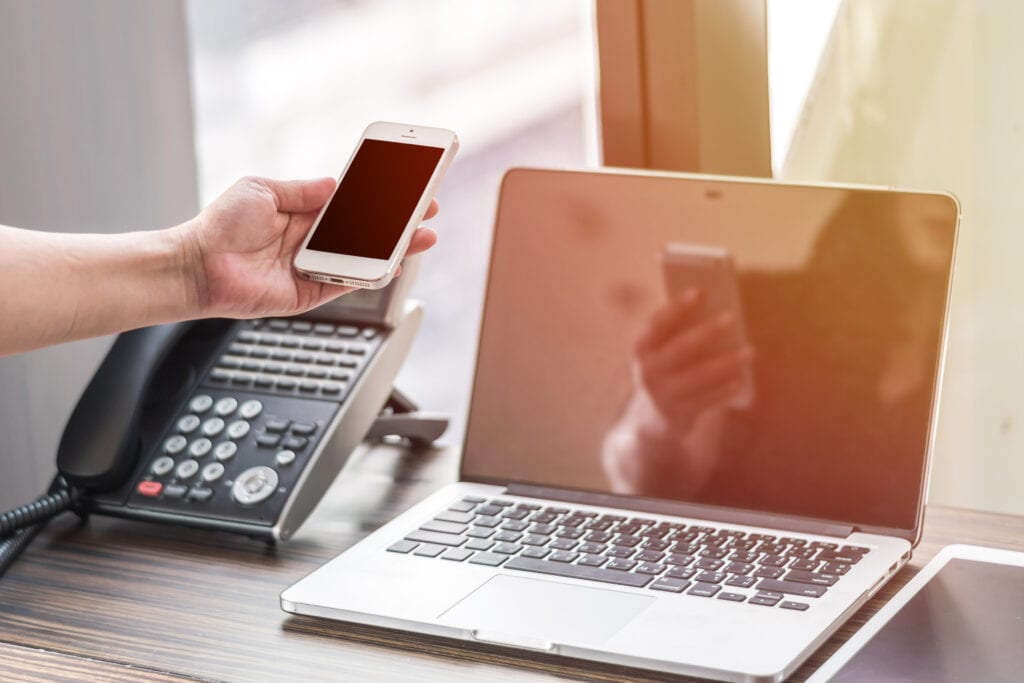 We understand that a lot of your staff are now working from home or work regularly on the road or even abroad on business. As long as your staff have a smartphone and internet connection, they can access the cloud wherever they are! This means that you don't have to worry about buying an excessive amount of VoIP devices that employees have to lug around. And when your clients call landlines and use the Auto Attendant, they can be patched through to the person they need to speak to whether they are in Durham or Dubai. 
The feature of our VoIP offering that we are most proud of is quite simply us and you. Some suppliers give you the gear and knowhow and run a mile as soon as payment has cleared. We value the trust you have put into Prestige and we are with you for the long haul. Communication underpins every business in the 21st century, so we want to make sure you're never left scratching your head. Any technical issues you have or training you need, we are there to give you a helping hand.  
So if you need a VoIP system for your growing business from a provider who only sells top of the range bespoke solutions, you won't do any better than Prestige. Contact us today for a no-obligation free quote.
If you'd like to learn more, get in touch with one of our friendly team today or give us a call on 01329 595080.
Read the rest of the VoIP series:
How does a VoIP system help everyday businesses?