Recruitment agencies have a lot of business critical calls to handle. These can include screening candidates, business development calls, arranging interviews, qualifying vacancies and more. Underpinning all of this is their telecoms solutions. Needless to say, getting the right setup in place is essential for a recruitment business to thrive.
We strongly believe that a virtual landline is a great solution for most recruitment agencies. In this post we'll run through the case for how a virtual landline can help recruitment agencies of all sizes.
1. Multiple Office Locations 
Recruiters often work "patches", areas of the country that a specific recruiter or team may cover. With this regional recruitment, you'll need a local number. Working in the midlands but you're based in Reading? Let's get you set up with an 0121 number.
From the multi-regional office to the solo recruiter who wants a prestigious 020 code, we have you covered.
2. Call Recording
As we mentioned, recruitment is a heavily phone based industry. With so much riding on the exact details of a phone call, having the ability to record calls can be a godsend.

You may need to record calls for legal reasons, such as to prove certain terms were verbally agreed upon. You may need to record calls to provide ongoing training to your team or perhaps you'll simply want to record a candidate or client call to verify important details that you may have forgotten after the call.
Regardless of what you use it for, call recording can be an invaluable tool in any recruiters arsenal.
These call recordings are securely stored in the cloud too, so you can listen back to them from the comfort of your own home if needed.
3. Call Stats
Our virtual landline packages also come with an award-winning management portal. If you work in a KPI driven environment or simply want to keep track of call activity for reporting, then this portal will be a fantastic resource.
Working with an external provider to get the same call stats can be rather expensive. We offer this at no extra cost to you.
4. Calling On The Go or Working From Home
Recruitment is driven by networking and connections, and there's no better way to build relationships than in person. Many consultants therefore, (Covid restrictions permitting) like to get out and meet their clients and candidates face to face.
The great thing about virtual landlines is they don't require you to be tethered to your desk.
As long as you have a phone and an internet connection you can use our app to dial out and receive calls from your virtual landline. On the train back from a client meeting and have to take an important call about an interview? Not a problem.
Another factor to consider is home working. More and more agencies are encouraging their consultants to work from home. With a rotating cast of WFH employees an agency can save on their office costs too. Again with our virtual landlines, work from home setups are a breeze.
5. Easy Call Routing
If you've ever worked in a recruitment office before, you'll be familiar with the painful situation where a consultant is out of the office on their lunch break when a prospect finally returns their call. The world of recruitment is all about opportunities. If the consultant misses this call, it could be weeks before they hear anything back from the prospect, or worse, they may never hear from them again. With virtual landlines it's super easy to transfer a call over to the relevant consultant, wherever they may be.
6. Quick dialing 
Speed is everything in recruitment, after all, you may have heard the phrase "time kills deals".
With our browser extension, you can call a number wherever you see it on the web or on your mobile with just one click. It may seem trivial to save 20 seconds of typing out a phone number. However, with the volume of dials a recruiter makes, this can really add up.
7. Easy Setup
Finally, one of the top benefits to a virtual landline is the ease of setup. You can get setup instantly with a phone and an internet connection. Want a desk phone? We'll post yours out to you right away and it's a simple plug-and-play job. No more complicated office wiring when you need to move offices.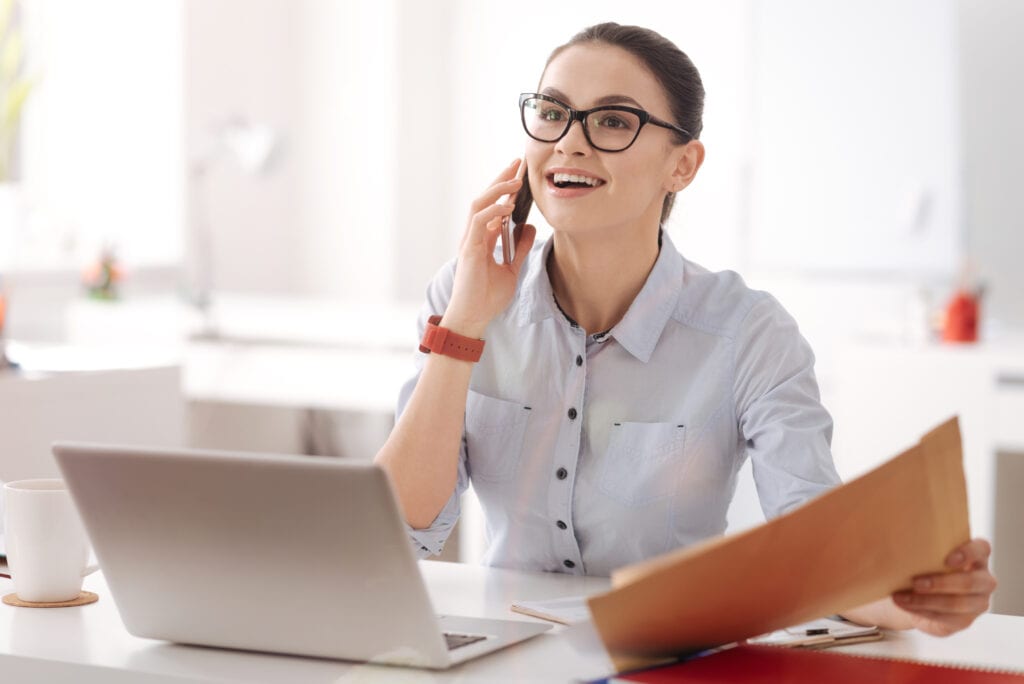 Getting Your Own Virtual Landline
There you have it, 7 of the top benefits of a virtual landline for recruitment agencies. We hope this has shown you a glimpse into the usefulness of a virtual landline and how it can be used as a one-stop-shop recruitment telecoms solution.
If you'd like to learn more about how a virtual landline may help your business or simply discuss your options, reach out to us at info@prestigetelecomgroup.co.uk or call 01329 595 075